(Translation in English below)
Ledarledda snöskovandringar.
Vi vandrar ca 3 timmar inklusive rast med brasa. Hög mysfaktor utlovas.
Tag med eget fika i ryggsäck eller beställ färdig fikaryggsäck.
Kraftiga kängor/vinterskor är bra. Stavar är praktiskt men inte nödvändigt.
Max 10 deltagare.
Anmälan till 070-55 88 314.
Vi använder TSL snöskor som passar alla skostorlekar.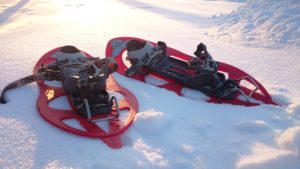 Snowshoe tours with guide in the Swedish forest
We walk through the woods far from paths. We are not likely to meet any other people but we will see traces of several wild animals.
Karin Haulin is your guide. She is a biologist with long experience of outdoor life and will be able to answer all your questions about the Swedish nature, wildlife, culture and forest.
This is included
– Rent of snowshoes
– Pickup at the bus stop
– About 3 hours guided tour including brake at camp fire
– High cozy-factor promised!!!
You bring warm clothing, including hat and gloves, small rucksack with fika. Good hiking boots are preferred.
Max 10 people per tour.
Call for more information and to book your tour. +46705588314